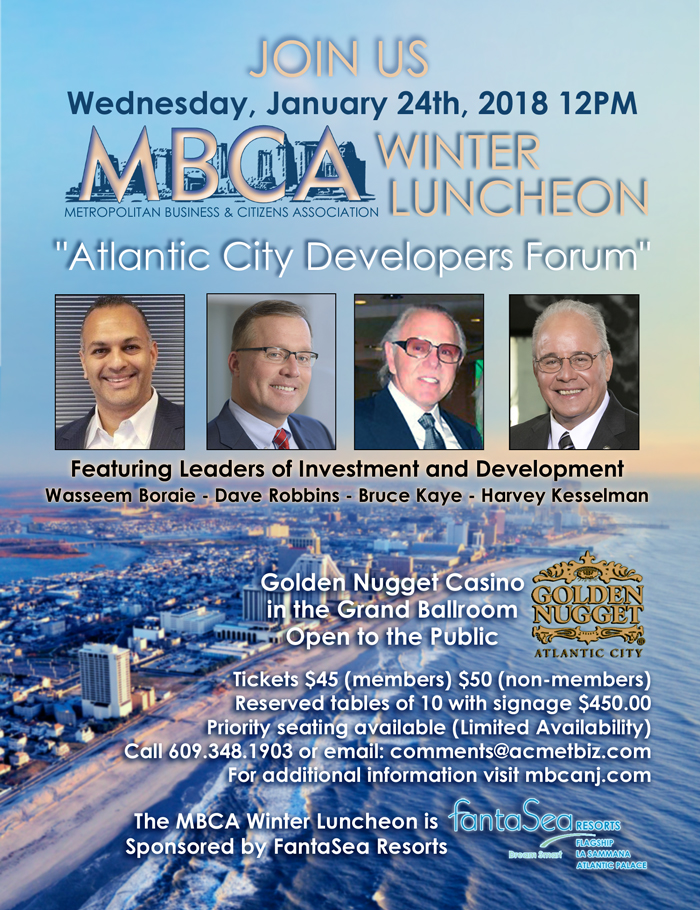 2018 New Year's Kick Off Business Luncheon – Atlantic City Developers Forum
January 24, 2018 12PM, The Golden Nugget Casino Grand Ballroom
CLICK HERE TO PURCHASE TICKETS
The Metropolitan Business & Citizens Association (MBCA) is proud to  bring our community the annual New Year's Kick Off Business Luncheon on  January 24, 2018, noon  at the Grand Ballroom of The Golden Nugget  Casino in Atlantic City.
We have heard about visions and goals, now hear  and see  the economic of our featured business developers  who have invested millions into Atlantic City, will employ hundreds , become part of our community and have shovels in the ground.
MBCA's 2018 Developers Forum Panel will feature corporate leaders of investment and development: Mr. Bruce Kay of FantaSea Resorts; Mr. Wassem Borarie of The South Inlet Resident Project; Stockton University President Dr. Harvey Kesselman on The Gateway Project; Mr. Dave Robbins of South Jersey Gas; and Mr. Matt Harkness, President Atlantic City Hard Rock.
Hear  and see the plans, updates and future economic developments form the  Inlet  to Albany Ave. – complete with question  and answer session  and never released plans.
Kick off the New Year  with "The Movers and Shakers"  of  Development here in Atlantic City for 2018!  Truly New Times Ahead for Atlantic City! Be Part of the Future with us on January 24th!
The  New  Year's Kick- Off  Winter Luncheon is a long city tradition  and MBCA is proud to be able to present this economic  forum to the community at  The Golden Nugget of Atlantic City.  We are Proud to be the first area organization to provide this platform in 2018!
Click here to purchase tickets.  Tickets for members are $45.00pp, Non- Members: $50.00pp, Reserved Tables of 10 with PRIORITY  Seating/ Signage: $450.00
The Winter Luncheon is proudly sponsored by  FANTASEA  RESORTS