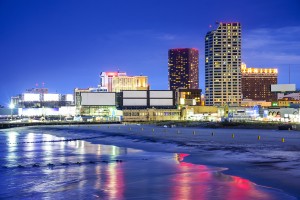 The Metropolitan Business & Citizens Association was founded over 30 years ago as the Midtown Business and Citizens Association. The MBCA has grown quickly, and it became apparent that many businesses and people were concerned with the growth and success of Atlantic City, not just those businesses located within Atlantic City. To meet the incredible interest, the MBCA changed to become the Metropolitan Business & Citizens Association and expanded its membership guidelines to include all businesses in Atlantic County and South Jersey Region.
The MBCA is a non-profit civic/business organization. Over $280,000 has been given to various charitable/civic/non-profit organizations in the last 27 years. It is a grass roots organization that believes in giving back to it's members and other fine organizations that help the greater Atlantic City area community. MBCA has also established a scholarship foundation which gives annual scholarships to area students. The foundation has given over $150,000 to area students. The foundation also awards a $1500 direct teacher grant for one fine educator in the Atlantic City area.
The MBCA has grown to include in its membership 12 casinos, over 600 local businesses, 60 nonprofit groups and over 100 citizens. We are an all inclusive organization that strives to serve and represent all of the Greater Atlantic City area.
The goal of the MBCA has always been to provide a positive forum for large and small businesses and citizens and government to come together and work together to help Atlantic City. MBCA is the only group that includes all three segments of our community. MBCA continues to work for the betterment of our neighborhoods and to be a proponent of economic growth, expansion and development of the business community.
The MBCA is a resource of information. We host informative Luncheon meetings every other month throughout the year and invite key business and government leaders to speak. Our newsletters outline important issues that concern the Atlantic City community. MBCA has also established a website for information at http://www.acmetbiz.com as well as an up to date MBCA Electronic Newsletter which helps support member's events as well as MBCA highlights. The MBCA strives to be a positive force for the community. We work with and support other nonprofit groups, support civic events and award scholarships to local individuals. MBCA works with politicians and government for the betterment of all of Atlantic City.
MBCA continues to focus on the "positive" and help solve our common problems. With the support of our members, we look forward to many successful years to come.
---
Contact MBCA
The Metropolitan Business & Citizens Association may be contacted any of these ways:
Regular Mail:
MBCA
1616 Pacific Ave. 6th Floor
Atlantic City, NJ 08401-7003
Telephone:
609-348-1903
609-344-5244 fax
E-Mail:
[email protected]