Click here to purchase tickets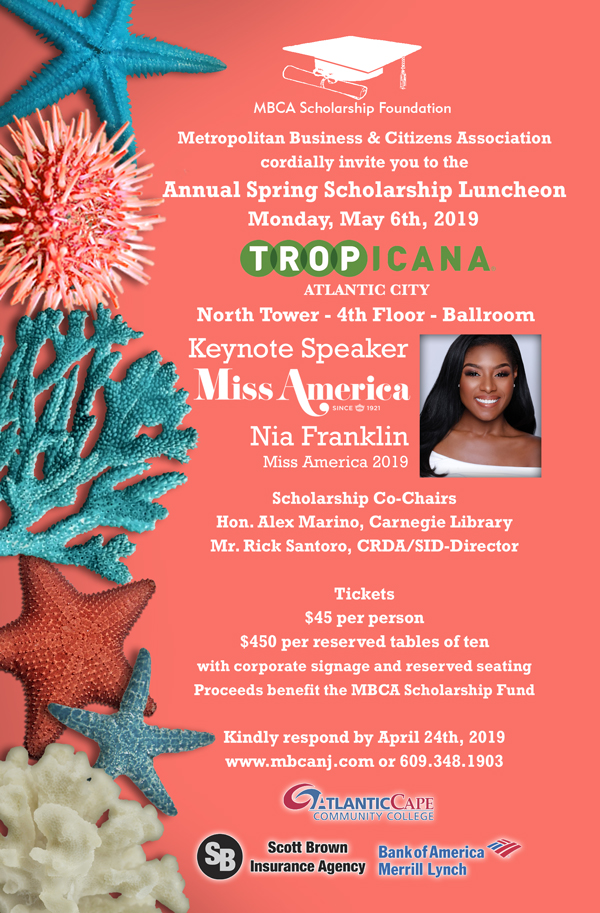 Click Here To Purchase Tickets
The Metropolitan Business Citizens Association (MBCA) will host its 18th Annual Spring Scholarship Foundation Awards Luncheon on Monday, May 6, 2019, Noon in the Grand Ballroom at Tropicana Hotel/Casino. The MBCA Education Foundation will present Scholarships for students planning to continue their studies at an accredited higher education institution.
This year's Keynote Speaker and Outstanding Educator Award recipient is Miss America 2019 Nia Franklin. MBCA will present several named Scholarships to area residents in their pursuit of Education.
This year we are pleased to announce the following Scholarships which include the Howard Bacharach Foundation Scholarship,  SJI Women's Leadership which gives a scholarship to an Atlantic County Woman , Atlantic City Day Nursery Scholarship, The Seashore Gardens Scholarship and AtlantiCare for a student in health field , Ed & Med Blake Scholarship, AtlantiCare Scholarship, The Johnny D'Angelo ARTS Scholarship by Forza Insurance & (2) Epicurean Scholarships In the Culinary and Hospitality Programs in Honor of Ed Hitzel. New 2019 Scholarships by Tanger Outlet , The Walk, Glenn Insurance and Accents Aesthetics will also be awarded.
MBCA also recognizes an area educator for their outstanding contributions to education. The Epicurean Society's Outstanding Teacher Recognition Award in the amount of $1,500 will be presented and a MBCA Outstanding Teacher Recognition Award of $1,500 to Teachers in our region. These awards goes to an individual who makes a difference in the development of his/her students, with a unique Teaching Program or ,demonstrates resourcefulness and utilizes innovative teaching techniques.  
The MBCA Scholarship Luncheon is proudly is sponsored by Atlantic Cape Community College & Scott Brown Insurance & Bank of America/ Merrill Lynch. The MBCA Scholarship Foundation is co-chaired by Alexander Marino, Executive Director of  Carnegie Library and Richard Santoro, CRDA/ SID Director
Click Here To Purchase Tickets.  Tickets only $45.00 Per Person. Tables of 10 with Reserved Priority Seating and Signage are available by calling 609-348-1903 or visit www.acmetbiz.com for more information.